Young people look to youth clubs as digital divide leaves millions behind
Almost half (49%) of young people don't have access to adequate technology at home, with a third not having access to even a laptop or computer
The lack of tech is leaving young people behind, with 50% of young people stating that it is affecting their success in the job market and even more (59%) admitting that it's leaving them behind socially
Three UK has launched Connected Communities, a pilot initiative supported by Lenovo, to equip three youth clubs across Leeds and Birmingham with 5G broadband, Lenovo Smart Tab M8 tablets and learning sessions by Three Discovery to help tackle the digital divide
DECEMBER 12 2022: Almost half of all young people aged 11-17 can't access the basic tech they need to 'achieve their best', according to new research from Three UK.
The survey of 700 11-17 year olds found that the digital divide is continuing to leave millions of young people behind, with almost half (49%) of those polled not having access to adequate technology at home and a third (33%) not having access to even a laptop or computer.
Unsurprisingly, the inability to access basic tech at home is causing young people to worry about the impact this will have on both their school studies and their future employment. Of those without access to a laptop or computer, over two thirds (71%) find it difficult to apply to jobs or do schoolwork, whilst half (50%) were similarly worried about its effect on their future employment.
Three UK commissioned this research to understand how young people are affected by a lack of technology and access to connectivity.
With the research also revealing that over a quarter (27%) of young people want access to the latest technology, outside of school and college, Three UK has launched a pilot campaign to supercharge three youth clubs across Leeds and Birmingham with Three's high speed 5G Wi-Fi and Lenovo tablets:
The Hamara Centre, Leeds' largest ethnic minority youth organisation, which offers 1-1 support for young people as well as activities and youth club sessions weekly
Hall Green Youth, a centre focused on increasing the confidence and self-esteem of young people whilst providing safe spaces to young people in Hall Green, Birmingham
Shard End Youth Centre, a 50-year-old organisation, which operates in one of the most deprived areas of Birmingham and supports young people aged between 5- 25
Thousands of young people attend youth clubs across the UK and it's a clear government priority with £380m pledged to ensure that by 2025, every young person in England has access to regular out of school activities.
Whilst the motivation for attending youth clubs varies, access to tech has been identified as a key benefit, with three quarters of those attending youth clubs wishing that their club could provide access to digital technology and 59% of those surveyed saying that a lack of tech will see them left behind socially.
High-speed broadband was also identified as the most useful tech that young people needed access to, with almost a third (31%) stating that it was the most important, over and above devices, printers and scanners.
In addition to gifting 5G connectivity, Three's Discovery team have also delivered a series of bespoke digital skills workshops to ensure each youth club can get the most out of the technology.
Elaine Carey, Chief Commercial Officer said: "Access to technology and connectivity has never been more important for young people across the UK. It has become an integral part of their day-to-day life, from aiding them in their studies, to providing them with a creative outlet or simply in communicating with their friends out of school.
"However, the digital divide very much remains. That's why we wanted to look at how we could support young people who might not have access to the tech they need at home. We're really excited about partnering with the Hamara Centre, Hall Green and Shard End on this initiative; both in providing them with connectivity and technology and in supporting the incredible work that they are already doing for the local community."
Jules Lancaster, Senior Youth Worker at Shard End Youth, said: "Shard End Youth Centre has played a vital role for the local community for more than 50 years. It has existed since I was a child and has continued to evolve to meet the needs of young people. However, we know that technology is one area that we have not been able to keep pace with. Our internet is poor and our computers are years old. We're therefore absolutely delighted that Three has chosen our youth club to partner with on such an excellent initiative. Everyone is so excited about using the tablets and having access to high-speed internet, so we've no doubt that it will be a game-changer for us."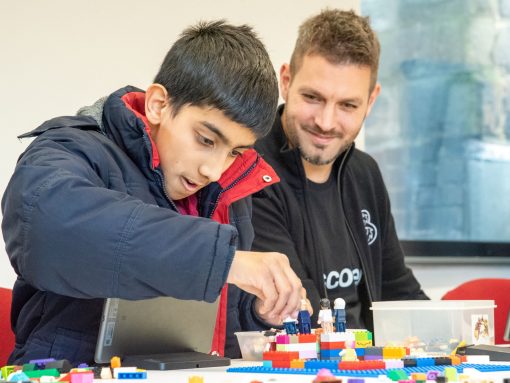 Notes to Editors
About the research
OnePoll surveyed 700 11-17 year olds on their attitudes towards technology and youth clubs between 15/11/2022 – 18/11/2022. The research was commissioned by Three UK.
About Three Discovery
First launched in 2014, Three's Discovery delivers free digital skills workshops to individuals, children in education, community groups, charities and businesses.
The Discovery team create and deliver key learning that supports digital capability and better connectivity, every day, for everyone.
Discovery reflects Three's ongoing commitment to empower and educate local communities by teaching them essential digital skills, ensuring that mobile technology is accessible and enjoyable for everyone.
About Three
Three launched in 2003 as the UK's first 3G only network, laying its foundations as the network that was born to be different. Today Three is a connectivity company that connects people to people, people to things and things to things and has 9.4 million customers.
Our network today covers 99% of the UK population and we carry 28% of the UK's mobile data traffic.
Three launched 5G in August 2019, is the largest holder of spectrum in the UK and has been recognised by Ookla as having the UK's fastest 5G network for Q1-Q2 2021.
It is the only operator able to meet the International Telecoms Union (ITU) 2020 standard of 100MHz of contiguous spectrum for full 5G services.
Three is the official partner and shirt sponsor of Chelsea FC men's and women's teams.
Three UK is a proud partner of Samaritans, where it will use the strength of its network and technology to connect 1 million people to emotional support.
Three was voted the Best Network for Data at the Mobile Choice Consumer Awards, as well as Best Network for Roaming by uSwitch, and the Best High Street Retailer at the Mobile Industry Awards.
Three UK is part of the CK Hutchison Holdings Ltd group of companies which has mobile operations in 11 countries. We employ more than 4,800 people across our offices in Reading and Glasgow and our 311 retail stores.
Media enquiries:
Headland
+44 (0)79 6899 7365 / +44 (0)78 3497 4624
three@headlandconsultancy.com