2020 Gender Pay Gap Report
We are absolutely committed to creating an inclusive and diverse culture and are pleased that our gender pay gap results for 2020 show the continued narrowing of this gap. We recognise there's still work to do and we'll continue to concentrate our energy on the things that'll make the biggest difference and help our employees fulfil their potential.
3-year trend – The results 
Calculated as of 6 April each year
As you can see below, the gap has been reducing at a steady and sustainable pace.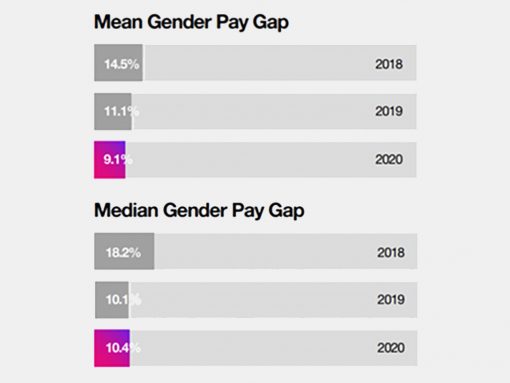 Why we have a gender pay gap
The context for our gender pay gap is similar to last year and helps us to focus on what we can influence.
We have fewer women in our higher paying technology functions, as well as within leadership roles. For a technology business, this is not unusual as we know the technology sector overall has a shortage of women and fewer girls are choosing STEM subjects in education. This skills gap is systemic in the UK workforce, and explains the majority of our gap.
While our bonus pay gap has slightly improved for most of our functions, the overall bonus gap has increased. This is due to the retail bonus being impacted by a relatively large proportion of our customer advisors, who were women, taking advantage of our flexible working options and being paid pro-rated amounts.
Our focus areas for 2021
We are at the start of our wider diversity, inclusion and belonging journey and in 2021we will invest more and embed best practice within the business. We will continue to make a conscious effort to improve our gender balance in high paying and leadership roles, which includes shortlisting an equal number of women and men. We are also making the following commitments to ensure we continue to see progress:
Hybrid approach to working
As part of our insight-led hybrid approach to working, we will review our flexible working policy to ensure that we offer our office-based functions greater flexibility over how, when and where they work. By offering employees greater options for flexible working and normalising this, we hope to ensure we're attracting and retaining the most diverse and wide talent pool available.
Developing our talent and career offering
We're introducing mentoring and leadership development initiatives as well as focusing on our apprenticeship and graduate offering to ensure our talent pipeline is diverse.
As part of our data and insight driven approach, we will track the performance rating gap and related pay review percentage by gender. This will help us track decisions around performance, recruitment, and promotions.
You can view the report here.